Table of Contents
Overview
Kount Advanced Fraud Prevention Threshold Management feature allows merchants to set thresholds around certain transaction variables helping reduce specific risk that relates to their business. Merchants can set their own rules and adjust filters for transactions running through Kount right from their Merchant Portal.
Merchants will need to have Kount Fraud Manager active on their gateway in order to be able to view these new settings. Once Kount Fraud Manager is active, in the Merchant Portal, head over to the left side panel → click on Marketplace Apps → click on Kount Fraud Manager, this will take you to the Kount Advanced Fraud Prevention dashboard.
---
Account Health Check
The Account Health Check dashboard tracks approval rates, average Kount scores, and reports threshold trigger rates. The merchant will see the Top 5 Thresholds that have been hit on a weekly trend and see how their average Kount score has changed. This will help the merchant to have a better understanding of which way their transactions are trending so they can take into account their risk management plans and adjust rules accordingly.
---
Threshold Management | Customizing Thresholds
Each merchant using Kount will have the base level configuration set by default. Now merchants can customize their own settings to suit their specific risk. Customizing Thresholds allows the merchant to customize the base settings to either be stricter or more lenient.
Located in the Merchant Portal: head over to the left side panel → click on Marketplace Apps → click on Kount Fraud Manager → under Utilities click on Threshold Management.
In Threshold Management, merchants have the option to add Thresholds and Filters. Once they have added a custom threshold, they will have the option to edit or delete them. For thresholds, they will need to enter a value. For filters, they will simply select Filter On or Filter Off. Threshold and filter settings will apply to all active processors by default.
If the merchant has more than one processor, they can select the processor from the Processor Configuration dropdown to apply specific thresholds to that one processor. If they want the same thresholds to be set on all processors, they will leave it as Default Settings.
These thresholds and filters can be marked for Review or Decline.
Review - if setting a review threshold or filter, this will allow the merchant to review the transaction and decide whether or not to void, refund, or leave it as is. Transactions hitting the review threshold/filter will be processed as normal. Transactions will be marked as Needs Review, indicating a moderate risk. Please see Transaction Review below for more information on this process.
Decline - if setting a decline threshold or filter, transactions hitting the decline threshold/filter will be marked for decline and will not be processed.
Once a merchant adds a value to a threshold, they can update that value at a later date when needed. This will update the existing threshold value, verses having multiple thresholds added.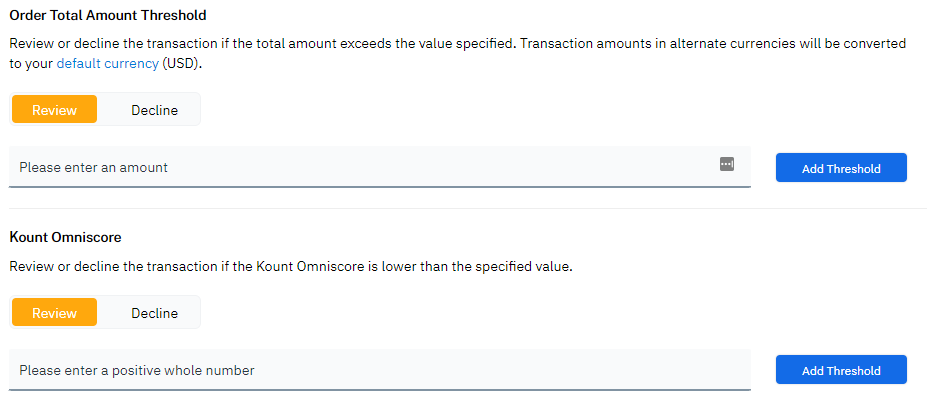 To add or remove a filter, they can simply set it as 'Review' or 'Decline' and click the Filter On or Filter Off button:

---
Default Currency
Merchants can change their default currency to reflect in their Kount Fraud Manager App. In the Merchant Portal go to "Options" → select "Settings" → select "Country/Currency Configuration" → select the "Default Country" and the "Default Currency" → then hit "Save".
Once set, head over to "Marketplace Apps" → "Kount Fraud Manager" → under Utilities go to "Threshold Management". The default currency will be displayed in their "

Transaction Basics" thresholds.

NOTE - when a new default currency is selected in their settings page, all currency fields on the Kount Threshold Management page are reset '0'. The merchant will need to enter the new threshold value and click "Add Threshold".
---
Active Thresholds
Once the merchant adds thresholds or filters, they will be shown a list of all their Active Thresholds on the top-right side of the Threshold Management page. Merchants can easily view their current rules set in the Active Thresholds window. If there are no thresholds or filters under the Active Thresholds window, that would mean that the merchant did not set any customized thresholds and they are using the base level configuration. If they did add customized thresholds, they can delete any of them by simply clicking on the delete icon. This will remove the thresholds/filter.

---
Transaction Review
The merchant will be able to view and manage transactions that have been scrubbed through Kount. Located in the Merchant Portal, head over to the left side panel → click on Marketplace Apps → click on Kount Fraud Manager → under Utilities click on Transaction History:

This will take the merchant to their Transaction Reports page were they can review the transactions that were marked for Needs Review. The columns will include the Kount Score, Kount Decision, and Kount Thresholds that were triggered for each transaction. The transactions that are flagged as "Needs Review" are the ones that the merchant will need to decide to either mark the transaction as "Review Complete" or initiate a void/refund ("Cancel Transaction").
The merchant has the option to select between "Review Complete" or "Cancel Transaction" from the Transaction Reports page and from the Transaction Details page. They can cancel the transaction if they see fit.
If the merchant selects "Review Complete", this will

leave the transaction as is.

If the merchant selects "Cancel Transaction" and the transaction has not settled yet, this will void the transaction.
If the merchant selects "Cancel Transaction" and the transaction has settled, this will refund the transaction.
Option to Review from the Transaction Reports page:


Option to Review from the Transaction Details page:

If the transaction Status = Failed, the Kount Decision will show "Transaction Failed", where the merchant will not be able to take an action on that transaction since it was declined by the processor:

---
Video