For Client, Group or Terminal Summary, you'll get the total of value & volume of the transactions.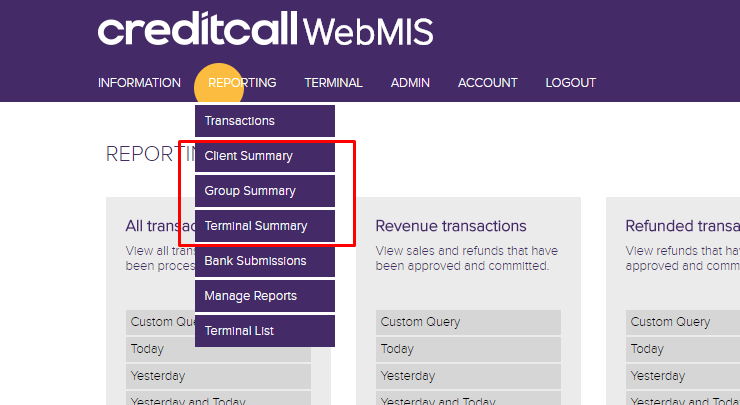 This report will include all transactions, approved or declined, committed, voided,… So it may be too detailed for everyday reconciliation but it can be very useful if you are investigating a discrepancy or checking on an individual transaction.
The maximum period can be 1 month for an online report (although only a maximum of the last 100 matching transactions will be displayed in html – see section 7), or 3 months for an offline report.
You can also search with the card number (First 6 digits and last 4), and the amount.
The terminal ID is either provided by Creditcall (with the transaction key once created) or on the actual machine. You can use "scope" to find the terminal ID or to select an entire group.
Or click on "custom" under the "subset" category.
 The Tab "Scheduler"
The Next tab "Scheduler" allows you to schedule the report per day, week or month.

You can also choose to include the data from the prior day, week, month, month to date or week to date.
You can include only the full days, select an end date, change the report name, and select the column you need (specified in the next tab)
Click on "Search" for an online report, or "Generate Report" for an offline report.
For an online report, you need to click on either the group/client/terminal (underlined in pink)  to get the detail of each terminal, and then on the amount to get all the transactions.
The offline report has 3 tabs "Transaction Values", "Transaction Volumes" and "Transaction Averages".