Table of Contents
Overview
This article outlines information for onboarding First Data Rapid Connect Omaha - EMV merchant accounts, and its specific boarding requirements.
Prerequisites
Please refer to the 'Processor & Device' and 'Processor Matrix' list to confirm we are certified with First Data Rapid Connect Omaha - EMV for the boarding request.
Settlement Method Supported
First Data Rapid Connect Omaha - EMV is a Hybrid-Host Capture based processor, which means it is a Host Capture based processor in the sense that First Data holds all the transaction details but it requires NMI to begin the settlement process by sending a message with the transaction volumes and total transaction amount to make sure both First Data's and NMI's system are synchronized. Therefore, for Hybrid-Host Capture, you can update the settlement cut-off time in the Settlement Schedule settings.
Platform: First Data Rapid Connect
Front End:

Omaha

Back End:

Omaha
Boarding Information
VAR Sheet Requirements
These are used to onboard the Processor Information section when Adding the Credit Card Processor:
Rapid Connect Merchant Number -

the 7 digit Omaha

Frontend MID

from the VAR sheet

Rapid Connect Terminal ID - the 7 digit

Bank TID

from the VAR sheet




POS Solution Name

- CREDITCALLHCRC

from the VAR sheet (this is also known as the Equipment Code Description on FDRC side)

Group ID - this will always be 40001 as Group ID 40001 is for Omaha

Frontend

, also on VAR sheet
Additional Information
This information can be provided to First Data when creating the VAR sheet for specific settings, along with the device the merchant will be using:
For CREDITCALLHCRC (Retail)

Omaha

as the Frontend

the VAR ID/ TPP ID is RCR015
It is imperative that you are 100% sure that First Data has the merchant set up as Host Capture to avoid any settlement issues / missing funds. If you board the account as a Host Processor, but FDRC has it set as Terminal, it will cause settlement issues which you will need to resolve (e.g. have it correctly boarded, etc.).
WARNING - Important Information: Please be aware that if you accidentally board the FDRC MID as the TID and the TID as the MID, and that reverse MID/TID combo exists on FDRC side for a live merchant, funds will go to the other merchants account. Therefore, please make sure the correct MID/TID is entered and please confirm funds are depositing into your merchant account before going live.
*** Once the boarding in complete, please test the account by processing a transaction and confirm that funds are depositing into your merchant account before going live. ***
Processor Information

VAR sheets you may see: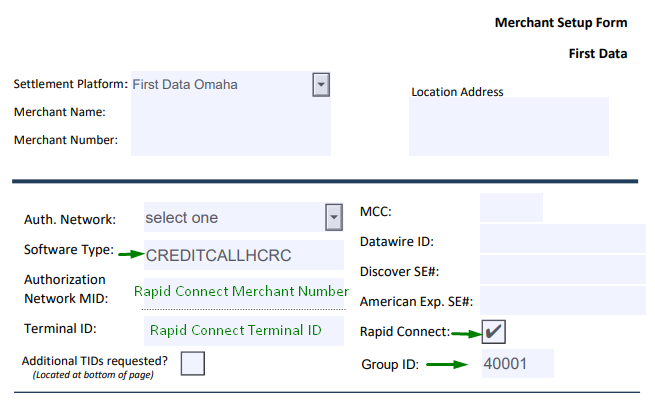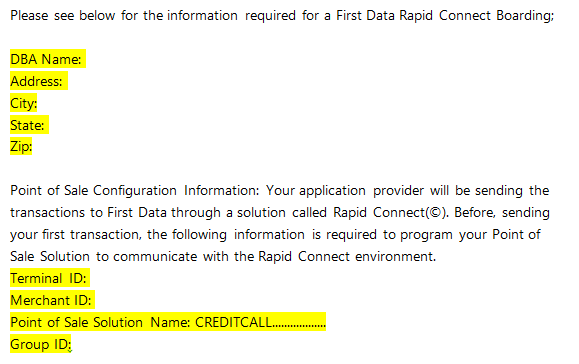 Possible Decline Errors
Invalid Merchant/Terminal ID:

error reported by First Data -

This indicates the merchant information in the gateway does not match the merchant information that the processor, First Data Nashville North, has. You can double-check the VAR sheet as compared to what was entered into the gateway. If all looks correct, First Data Nashville North will need to be contacted to verify. Sometimes the processor will need to generate a new MID/TID to correct the issue.

For additional errors please see our Result Code Table (Note: 200 level errors = Issuing Bank Errors; 300 level error = Gateway Error; 400 level errors = Processor Errors).