Table of Contents
Overview
The correct certificates should automatically be installed and managed by Microsoft during regular Windows updates; however it is possible to manually check the correct certificates are installed utilising the Microsoft Management Console (MMC).
Please note, the certificate installation displayed below is used as an example. Please review this article for information on our current live root certificate.
Checking Certificates (MMC)
Below are the steps required to check installed certificates using Microsoft's Management Console (MMC).
Search for MMC in your start menu and run the executable 
Click 'File' –> 'Add/Remove Snap-in...'
Select the Snap-in 'Certificates' then click 'Add' as seen below



Select 'Computer account' then click 'Next'



Select 'Local computer' then click 'Finish'



Close the Snap-in screen by clicking 'OK' at the bottom right of the screen
Expand the 'Trusted Root Certification Authorities' followed by 'Certificates' as seen below:



Confirm the current NMI Live Services Root Certificate is within the list of installed Root Certificates.
Certificate Serial Number & Fingerprint
Please check the serial number and fingerprint of each certificate before installation. You can do this by opening the certificate file and checking the relevant information in the details panel: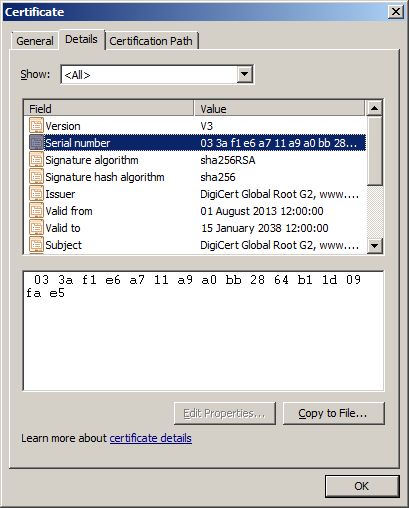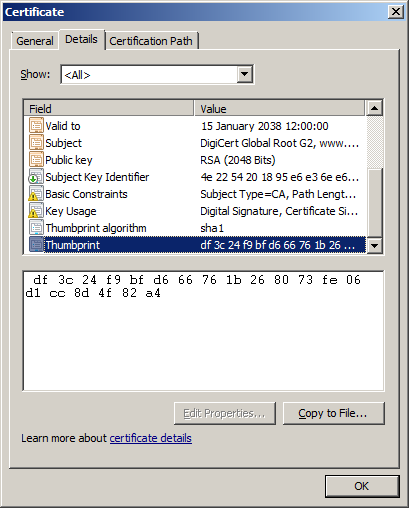 Importing/Installing Missing Certificates
Right click on the intended certification store as shown below –> 'All Tasks' –> 'Import...'



Click 'Next' –> (select your certificate) -> 'Next' -> 'Finish'