Overview
NMI enables end-users a simple and convenient way to pay a bill or invoice with their mobile phones while allowing an additional means to accept payments for merchants. With the Authvia TXT2PAY integration, merchants can create a conversation, send invoices, receive payment and send receipts via text messages to customers through the Virtual Terminal. TXT2PAY is a conversational commerce platform offering speed, convenience, and security for both businesses and their customers. Partners can quickly enable this value-added service through the Marketplace app store, and their merchants can begin accepting payments. Available on One platform, US only.
---
Features and Benefits
Increase speed-to-payment
Create frictionless payment experience
Eliminate PCI and data security risks
Improve internal operations
Keeps customer data safe
Enable another payment channel for your merchants with virtually no integration, no new apps, no new passwords
Requirements:
One platform,

US and Canada only

Enable in the Marketplace Apps (VAS); Able to be Mass Enabled and offered as a Free Trial
---
How does Authvia TXT2PAY work?
Merchant Experience
When Authvia TXT2PAY is enabled, merchants can send messages/invoices right from their Merchant Portal Virtual Terminal by starting conversations with their customers. Authvia TXT2PAY is located on the merchants left side menu. Once the merchant starts a conversation, they will be able to preview what the SMS text will look like before sending it to their customer. Merchants with multiple processors will have the option to select which processor they want that payment to be processed on. When the merchant sends a message, it goes out immediately.

Once they have conversations started they can manage their customers and manage/search their open/in-progress, completed and/or expired conversations in their Conversation History reporting page. Conversation reports are downloadable. If the merchant decides to close the Conversation, the customer does not get notified via text and the customer will just not be able to pay via that link in their text.
Please see Authvia TXT2PAY Virtual Terminal Guide to learn more on how to start a text conversation and how to manage these text conversations.
Consumer Experience
Once the conversation is sent, the consumers will receive a SMS text message with the customized instruction that the merchant has entered, a 4 digit Authvia issued code (if they are signed up with Authvia, their information is tied to their mobile number and will automatically populate) and a link to Authvia's web page where the consumer can (1) manually entering their credit card if they are new to Authvia, they will simply add their credit card information, which will be safely stored with Authvia or (2) if already using Authvia, they can change the card that would be used for that payment if they don't want to use the 4 digit code for their default card.
Once the consumer pays the bill/invoice, they will receive a SMS text that the payment was successful, along with a link to the receipt page. The receipt page is available to be printed and downloaded.
This is the text that the customer will receive if they have never paid via Authvia. The merchant's name will be displayed at the beginning of the text: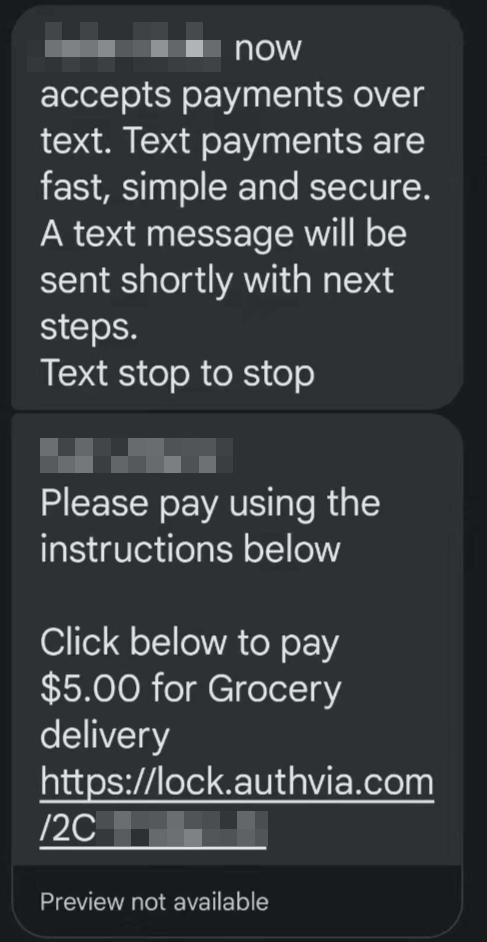 This is the text that the customer will receive if they have paid via Authvia before and have an account setup, which will include their 4 digit code to pay. The merchant's name (Vital Test in this example) will be displayed at the beginning of the text: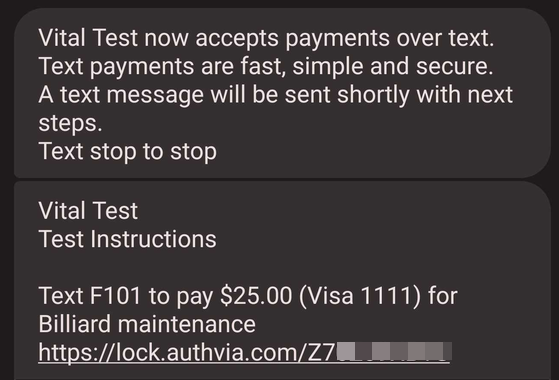 This is the text the customer will receive after they make their payment; it includes a link to their receipt:

This is what the customer will see if they click on the receipt link. They have the option to print and download the receipt: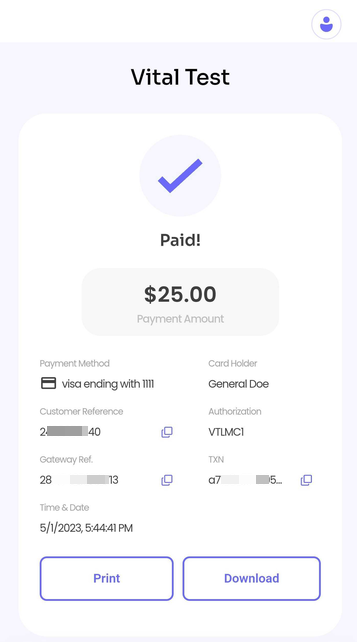 If the transaction fails, Authvia will send another text indicated that the transaction was unsuccessful and will provide another link to pay, where the customer can enter a different card for the payment.
Partner Experience/Enabling the Service
Authvia TXT2PAY needs to be enabled for your merchant. Log in to your Partner Portal and head over to List Accounts → scroll to the merchants name from the list or search their name in the search box → click on their name → scroll down to the Value-added Services section → on the right side, click on the Update Services button → select the Status to 'Active', 'Offered', or 'Free Trial' → click on Submit. Please see Value-added Services for more information on what each action (active, offered, not offered) does. To learn more on free trials, please see Free Trials!.

Once you click on Submit, you will see Authvia TXT2PAY under Value-added Services in their Merchant Details page:
Partners can Mass Enable Authvia TXT2PAY. To learn more, please visit our Mass Enablement of Value-Added Services Knowledge Garden article.
If you do not have Authvia TXT2PAY added as a Value-added Services and you would like to have it added to be able to resell it to your merchants, please email support@nmi.com and request Authvia TXT2PAY to be added to your account. Please provide your Account ID, which is located on the top right corner when you log in, with your request.
---
Frequently Asked Questions
Is this PCI compliant? Yes, Authvia stores the merchant's client's payment information with Level One security for the Payment Card Industry Data Security Standards.
Can the merchant's customer change their payment method? Yes, they can click on the link in the provided text message and change their payment method.
Does Authvia verify the recipient's phone number? Authvia authenticates the number, carrier and device to ensure that they are valid. Authvia then locks the link to the phone number.